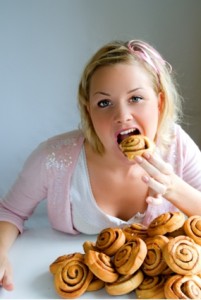 so I'm standing in my kitchen staring at the huge mess that I have the pleasure of cleaning (wishing I lived in a smaller apartment) and it occurs to me... I can clean, OR I can munch on the treats in the cupboard I've been avoiding all weekend.
Let's see,
door number 1: a clean kitchen, a happy hubby, and the satisfaction of a job well done
door number 2: the sweet comforting goodness of junk food, larger theighs and two seats on my next cross-country flight....what to choose?
As I sat down (surrounded in a wrapping wasteland of 7 mini reeses cups, 2 mini milkyways and a Kashi Pumpkin Spice granola bar) I wondered...since the thought of cleaning makes me want to cheat, could I save thousands on gym memberships if I just hired a cleaning lady? Just a little food for thought :)
3rd day update:
sleep: 6 hours (in bed by 12:35)
exercise: rest day
water: 60 oz ( a little extra to wash down my junk food binge)
food:
8 am - Kashi Autumn HarvestCereal
11:30am - Kashi Southweststyle Chicken
1:30pm - 1 cup mixed green balsamic dressing
2 cups homemade chicken and wild rice soup
2:156pm - vanilla Dilly Bar (my hubby brought home from an ice cream trip with my 3 yr old)
5:15pm - 7 mini reeses cups, 2 mini milkyways and a Kashi Pumpkin Spice granola bar
6:30 pm -Kashi Chicken Pasta Pomodoro (back on the wagon! whew)